Posted by Alexandra Porto on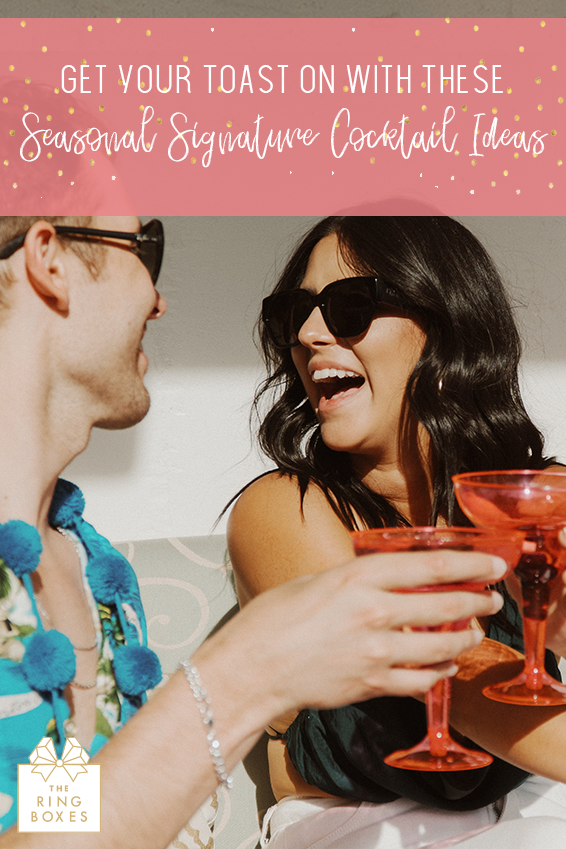 If you're looking for a fun way to add a personal touch to your big day while highlighting the season's rich flavors, signature cocktails are just what you need! Infuse your signature cocktails with some personality by opting for partner pairings or naming your drinks something creative. You could also add an illustration to the bar signage or cocktail napkins, and incorporate your wedding theme and color scheme.
Use fresh, seasonal ingredients for crafted cocktails your wedding guests will remember. Here are some of our all-time favorite concoctions broken down by season. We highly recommend taste-testing them together while you're knee-deep in wedding planning...
Tags:

Autumn, catering, Fall, menu, personalizations, reception, Seasonal, signature drink, Spring, Summer, wedding ideas, wedding planning, Winter
---
Posted by Alexandra Porto on
We spend a lot of time thinking about centerpieces, music, and flowers when wedding planning, but one of the most impactful wedding décors is often overlooked. We're talking about lighting, from votives to spotlights and elaborate string light tents, which gives a whole other meaning to a "wedding glow." This one element can create so much drama and really set the vibe for your dream wedding.
It can also help highlight the architecture of your venue, put a spotlight on your dancefloor or wedding cake, and keep the party going well past sunset. Leaving room in your wedding budget for lighting is an investment you won't regret...
---
Posted by Alexandra Porto on
A great wedding has a certain flow to it, like a well-choreographed dance. From lively conversations to celebratory cheers and guests partying on the dance floor, your reception should fill the room with love. Getting this vibe right is no easy task, and while some of it has to do with who is in the room, a lot depends on something else entirely: your reception floor plan. To help, we've put together our best advice for creating your wedding reception floor plan and table layout...
Recent Articles
Categories